Just back from the NECTAR conference in Lund
Heike and I attended the Network of European CNS Transplantation and Restoration (NECTAR) annual meeting in Lund, Sweden, where we met many clever people, listened to great talks (particularly by Tom Isaccs – co-founder of The Cure Parkinson's Trust), ate nice food and learned lots. Heike gave a short update on our work on developing microcarriers for cell delivery to the brain, and was awarded a travel award!
The motley crew:
Heike's Confocal Microscopy Image Featured in the Guardian
An image of our polyethylene glycol/heparin microcarriers was featured in the Guardian after being shortlisted by the "Picture Parkinson's" disease competition held by the charity Parkinson's UK.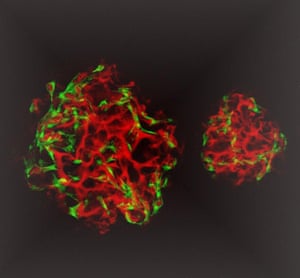 The winning images were awesome and can be seen here.
Dresdner Barkhausen-Nachwuchswissenschaftler-Preise 2015
Long titles can be common in Germany! However, Nachwuchswissenschafler-Preise can be be translated to Young Researcher Award. The event was held in Dresden where I met with Prof Brigitte Voit and others for the ceremony.
Great article in the Economist:
Together with Ben Goldacre's book "Bad Pharma", they do a lot to highlight the problems in scientific research.
http://www.economist.com/news/leaders/21588069-scientific-research-has-changed-world-now-it-needs-change-itself-how-science-goes-wrong?frsc=dg|a
Life with Parkinson's:
A really interesting article written by a young neuroscience professor who was diagnosed with Parkinson's
Published as a comment in Nature, the author descibes many difficulties after diagnosis, especially for a new group leader.
He blogs at parklifensci.blogspot.com and tweets at @Parklifensci.
Best Business Opportunity!
I've just finished a really good commercialisation course organized by the technology transfer office in Galway. Was great to learn the process of commercialising an idea. Would definitely recommend learning such stuff if your an early stage researcher. What was the idea? Now that would be telling…
http://tto.nuigalway.ie/en/news/60-ignite-tto-eco-system-2013
Wenxin in the Irish Times:
Polymer chemistry research led by Dr. Wenxin Wang gains coverage in the Irish Times. Homopolymerization of a branching agent used to be considered impossible, now we can control it to produce single cyclized chains or incredibly hyperbranched polymers. Either extreme could have an array of uses as free vinyl groups are left on the structure for further functionalization.